Breeding Success at Jatayu Conservation Breeding Centre, Pinjore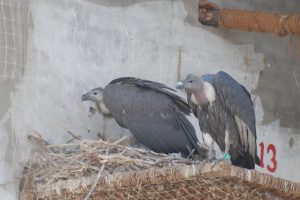 The centre has successfully bred five nestling of White-backed vultures and one nestling of Slender-billed vulture at the centre, during the breeding seasons of 2007-08 & 2008-09.
Breeding season of vultures at the centre commences from the month of September when established pairs in the colony aviaries begin defending their nest ledges and sit together most of the times. They copulate on the nest ledges, collect nest material and build nests. This coincides with the on set of breeding season in wild.
The White-backed vultures were the first ones to initiate breeding at the centre in the year 2005-06. The Long-billed's and the Slender-billed's attempted breeding for the first time in 2006-07.