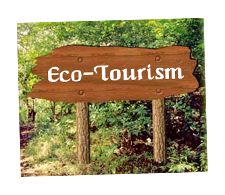 Haryana means 'The Abode of God' This was the place where the first hymns of the Aryans were sung and the most ancient manuscripts were written. The state is studded with century old monuments, temples, gardens, fairs and other attractions viz. adventure tourism.
Haryana state is endowed with a rich and varied bio-diversity distributed over a mosaic of different habitats spreadover the Shivalik Hills of the northeast to the Aravalli Range in the south and over Yamuna-Ghaggar plain in the east to semi-desert sandy plain in the southwest.
These varied habitats have been supporting a variety of animal and plant species ranging from thorny deciduous forest to pine trees. The species of fauna in the state include Black Buck, Panther, Nilgai, Fox, Jackal, Dear, wild dog, Parrots, Peacock, Pheasants etc. More than 300 species of birds are found here.
Forest Deptt. has created the Eco tourism spots in the state at Thapli, Morni Hills, Kalesar, Adibadri, Chuharpur Herbal Parkand Ban Santor.Eco lodges with swiss cottage tents, watch towers, nature walks, herbal parks, outdoor camps and many more activities are being added at these spots.
The Department has adopted entirely a new approach in tourism. The programs are preserving travel to natural areas to appreciate the cultural and natural history of environment, taking care not to disturb the integrity of ecosystem, while creating economic opportunities that makes conservation and protection of natural resources adventageous to the local people.
These Eco loges have been equipped with eco-friendly furniture, roof hangings crafted from bamboos and natural flora which take you further close to local systems and traditions.The tents and tree houses at Thapli , Morni and chucharpur are well equipped with modern day amenities. These accommodations are surrounded by useful herbs/herbal gardens, water spots and also have workshop & seminar holding facilitates.
The Nature Camps in Haryana ( Thapli , Morni , Ban Santor , Chuharpur ) enable you to have an wholesomely satisfying natural view of all rich and healthy pollution free natural environment.Unlike the milieu you get at a luxury hotel, Eco lodges, Tents and tree huts let you dwell at a typical jungle ambience and give a feel of being in the lap of nature.These Eco lodges and tented lodges give you an exotic and natural view of several flora and fauna while feeling yourself to realize a unique and long lasting sweet experience.
The scenic beauty of morni Hills is unmatched. Exploring this tiny hill station and its natural surroundings is worth making one's Eco vacation extremely enjoyable.The whole beauty of Kalesar (Yamunanagar) is assembled in its untouched serenity and virgin bank of Yamuna river, which is full of offering diverse range of Eco-adventures. Visit to National Park gives a complete feel of nature with flora and fauna. One of the most famous nature Camp in north India known for its medicinal plant base is Herbal Park Chuharpur(Yamunanagar). It lets visitors indulge into many eco and recreational activities like nature walk in splendour herbal park, lake-boating, yoga and meetings in natural surroundings.
Serene and dense forests offering amazing wildlife view are some of the embedded geographical features of Ban Santor.You can have a picturesque view while sitting in the lap of nature at the heart of virgin, lush forests. Forest department is still continuing the efforts and have planned some more recreational activities like indoor and outdoor games, yoga & Ayurveda centres etc.
Photogallery