Nahar Wildlife Sanctuary, District Rewari
Nahar Wildlife Sanctuary is situated in Rewari district of Haryana. The Sanctuary spreads over an area of 522 Acre. This area is an old pasture land of Nawab of Dujana. This small area is divided into three parts. The Kosli-Kanina road divides the area of 424 acre into two parts of 331 acre and 93 acre. Another stretch of 98 acre lies north of this area. The area was managed as Reserve Forest before its declaration as Sanctuary in 1987.
Significance
In the state of Haryana where natural resources are fast depleting day by day. Nahar Wildlife Sanctuary is among the last few surviving natural habitat for the Black Buck in particular and for other wild life species in general. Haryana state has limited areas to promote education and nature awareness. This Sanctuary offers good opportunity in this regard.
In the year 2012-13 a protection centre was constructed in Wildlife Sanctuary Nahar. An area of around 25 acre was fenced with 2.4mt. high GI Wire Netting. This wire netting was fixed over one foot high Brick wall. A pair of Black Buck has been released in the Centre. More no. of rescued animal will be released in the centre in the near future.
Contact Details
Address: Nahar Wildlife Sanctuary is situated in the Kosli Subdivision of Rewari district of Haryana,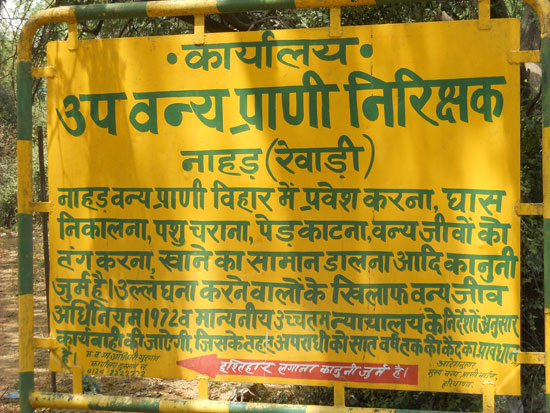 How to Reach
By Train
The Sanctuary is about 40 km. from Rewari and 100 km. from Delhi via Jhajjar. It lies in Tehsil Kosli which is the nearest railway station too, only 6 km. from this Sanctuary.
By Road
Direct Haryana Roadways buses from Delhi ISBT and all-district Head Quarters i.e. Rewari, Rohtak, and Mahendergarh are available.