Herbal Parks and Herbal Gyan Kendras have been set up in each district to educate people about the traditional Indian system of medicine for generating awareness, preserving gene pool and production of quality seeds and seedlings for distribution to farmers. Farmers are also being encouraged for ex-situ cultivation and propagation of medicinal plants to save the natural biodiversity and Income Generation.
These herbal Parks will help in conservation of species and also serve as gene-pool both for indigenous & exotic species. This endeavour of Haryana Forest Department has been appreciated by the public, practitioners and policy makers.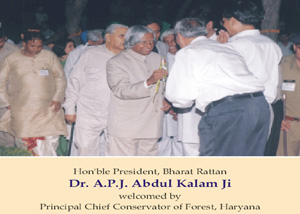 The Herbal Nature Park is situated at Chuharpur Reserved Forest near Khizrabad on Bhud Kalan road in Yamuna Nagar district. It is about 35 KM. from Yamuna Nagar, 80 K.M. from Dehradun, 130K.M. from Chandigarh and 255 K.M. from New Delhi. Chuharpur Reserved Forest has an area of 184 Acre, with a medium tree density of Khair, Simbal, Teak, Shisham etc. This Herbal Nature Park is dedicated to Late Ch. Devi Lal Ex. Dy. Prime Minister, of India. This park was inaugurated by the then Hon'ble Chief Minister of Haryana Ch. Om Parkash Chautala on 6 Nov. 2001.
Objectives
The main objectives for developing this herbal park are :-
Conservation of medicinal plants of Haryana for study and research.
Developing a gene-pool of indigenous and exotic plant species for conservation and propagation purposes.
Popularization of cultivation and use of Indian medicinal and aromatic plants in the area by local people.
Establishment of sustainable medicinal plants resource base.
Developing a centre for tourist attraction in Haryana to help popularizing Indian Ayurvedic System.
Salient Features
At prsent the park has been developed in 160 acres of land but in future it can gradually be extended up to 184 Acre.
The park harbours more than 350 species of medicinal trees, herbs, shurb and climbers.
Facilities of training to farmers to popularize agriculturization of economically viable medicinal species to them.
Quality seed and seedling production for distribution to farmers.
Trial of new medicinal species for introduction in agro-forestry models.
Development of protocol for cultivation techniques for important medicinal plants as cash crops.
Standardization of storage conditions.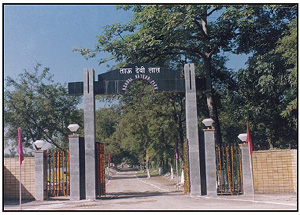 In the initial phase attempt has been made to conserve medicinal plant wealth found in Haryana. While in the later phase important exotic and rare plants will also be procured and conserved in the park. Yamuna Nagar is known for agroforestry not only in Haryana but all over the country. Farmers are growing crops like turmeric along with poplar to boost their income. Special attention has been given to develop an agroforestry model for different medicinal plants in this park so that farmers may increase their income by adopting their cultivation.
Medicinal Species Planted
Planted More than 300 species of medicinal trees, herbs, shrubs, climbers ferns, and aquatic plants have been planted in 75 acres of land. Some of the important plants grown in the park are Ashwagandha, Sarpagandha, Vach, Brahmi, Chitrak, Safed Musali, Shatavari, Isabagol, Tulsi, Pippali, Makoy, Bhumi amalki, Gwarpatha, Harad, Bahera, Amla, Bael, Rudraksh, Kalihari, Patharchur, Lemongrass, Liquorice, Jatropha, Palmarosa and Haldi.
Main components of the Park
Landscaping and Walkways

Landscaping is the most important consideration for the development of such parks. Meandering walkways and aesthetically designed herbal beds add to the beauty of this Park. Landscaping is based on the following consideration:-

Cost effective by use of locally available material.
Soothing design to blend with the natural forest surroundings.
Adoption of Feng-shui models for harmony and coherence in the design.
Presence of water bodies and circuitous walk ways.
Aesthetically appealing and attracting to vast variety of tourists.

Demonstrative Herbal Garden

Medicinal herbal plantation has been done under matured trees and along with tree plantation. So far lacs of herbs-shrubs have already been planted in along with medicinal tree plants. Since the park spreads over a large area, therefore to facilitate the tourists, a demonstrative herbal garden near the entrance has been made which displays more than 200 varieties out of the total varieties available in the park,of different medicinal plants on aesthetically designed herbal beds and it also provides sitting and walking places for tourists. Description of each plant and uses has also been displayed through name plates. This is a major tourist attraction in the Park.




Irrigation system

Since the area of the Park is very large, manual irrigation to plants was prohibitively costly. Therefore latest irrigation system of drip, sprinkler and rainguns have been adopted for this purpose. Horticulture department has provided subsidy on some of such systems.

Fencing

A 7.5 Km long and 7 feet high chain link fencing has been done to protect the plants of Herbal Nature Park from being browsed by wild animals.

Poly House

A Poly house on 500 M has already been installed with 50% subsidy from the Horticulture department. The Poly House is helping in preparing planting material and establishing medicinal plants resource base for propagation and distributing to farmers.

Green House

A greenhouse on 500 sq meters has been installed in the park. This is helping in hardening young tender plants before plantation

Bamboo Hut / Information Center

A small cottage of bamboo has been built to serve as an information center for the convenience of visitors in the park. Bamboo has been preferred as a building material since it blends well with the surroundings. Farmers' training camps are regularly organized here.

Lake

A lake has been dug parallel to Green House which is fed by West Jamuna Canal. Some birds have been let open for attraction to the children. Few migratory birds also visited this during winter.

Children Park

To attract more children to visit this park, a small children's park has been developed at lake island for their recreation. Educating children by giving them glimpse of valuable medicinal plants is our cherished goal so that they learn the importance of their conservation and propagation from the very childhood.